May 6, 2021 National Day of Prayer – Members of the Post 113 Honor Guard presented the colors at the National Day of Prayer ceremony on the steps of the Idaho State Capitol in Boise.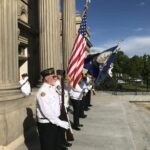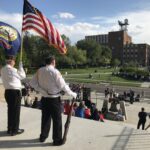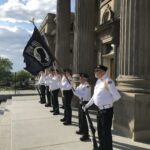 ---
August 20, 2019 – On behalf of LCDR Kyle A. Stone, USCG, Post 113 First Vice Commander, Thom Juul (Lt), presents Post 113 Commander Steve North (Rt) with an American flag that flew over USCG Patrol Boat 32127 in Guantanamo Bay, Cuba, while on an Anti-Terrorism/Force Protection Patrol within the Naval Defensive Sea Area, in support of Operation Enduring Freedom.
---
Post 113 Second Vice Commander, Maj. Richard Dees, USAF (Ret), swears in granddaughter, MSgt. LeaAnna Dees-Kelley, for her final enlistment in the United States Air Force. MSgt Dees-Kelley is a fourteen year veteran and is currently stationed at Minot AFB, North Dakota. Rich has had the honor and privilege of administering LeaAnna's initial and all subsequent enlistment oaths. Our congratulations go out to LeaAnna. Well done. Your family and Post 113 are very proud of you.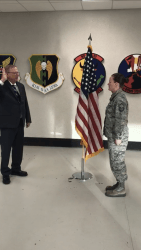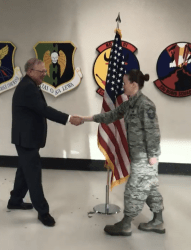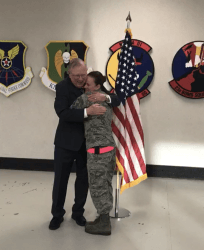 ---
Fall District 3 Meeting
October 27, 2018, Post 113 hosted the Fall District 3 meeting. Members and leadership from the District 3 posts, auxiliary, and SAL were well represented.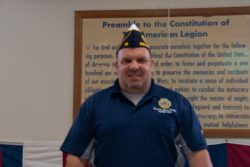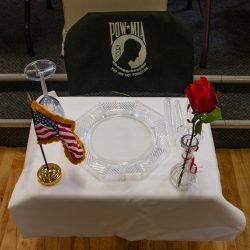 ---
September 22, 2018 — Post 113 Chaplain Thom Juul Congratulates Post 113/Sqdn. 113 Dual Member PFC Justin G. Juul at his Graduation From Marine Corps Boot Camp MCRD San Diego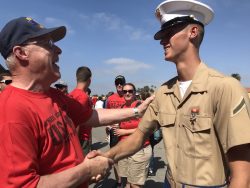 ---
Meridian Mayor Tammy Proclaims September 18, 2018 Mt. View High School Toros American Legion Baseball Team Day.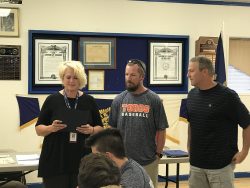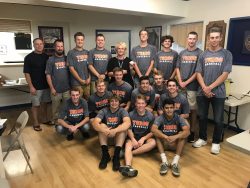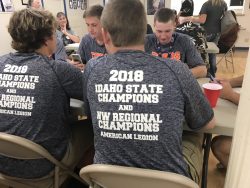 ---
Post 113 Commander Matt Wrobel Presented a Brass Bell to the Idaho Department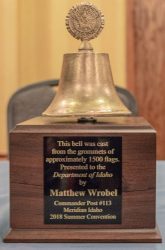 Matthew Wrobel realized that many of the grommets attached to U.S. flags were made of brass. After retiring nearly 3,000 flags in less than two years, Wrobel had 22 pounds of brass and an idea.
He had a bell cast from the grommets and presented it to Department of Idaho leadership during its 100th convention.
"It was very emotional to see my idea come to life. But the greatest gift I was given in this was hearing the bell ring when the gavel struck it," said Wrobel, Department of Idaho membership chairman and commander of Post 113 in Meridian. "My heart filled with pride and my eyes filled with tears of joy to see something so beautiful rise from the ashes of our flag disposals."
Wrobel presented a bell cast from the grommets of 1,500 American flags to Department Commander George Woodman on July 13; also present were National Commander Denise H. Rohan, Past National Commander Alan G. Lance and National Judge Advocate Kevin Bartlett.
Another bell was cast from the remaining grommets and given to Wrobel by the company in Indiana who made it.
"Every time I look across my living room and see the bell it gives me goosebumps. It also brings memories of the different flag disposals that we performed to collect the material to create it," Wrobel said.
© Copyright 2018 The American Legion
---
Post 113 Hosted the Idaho Department 100th Anniversary Convention Luau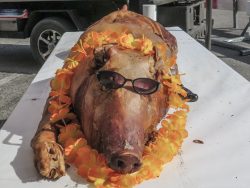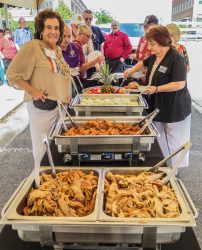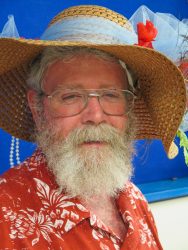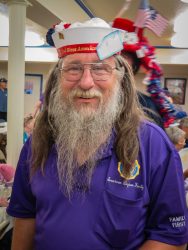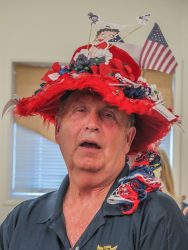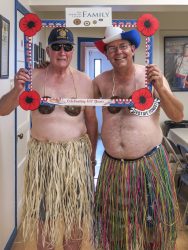 ---
Veteran's Honor Flight
On June 12, the Post 113 Honor Guard participated in the Veterans Honor Flight at Western Aircraft located at the Boise Airport. Flights for eight veterans were graciously provided by pilots Mike Somers and Tom Dick in the vintage Stearman biplane. Honor Guard members participating were (Lt-Rt) Don Burton, Jack Youngs, Bryce Keck, Doug Killam, and Doug Hanks.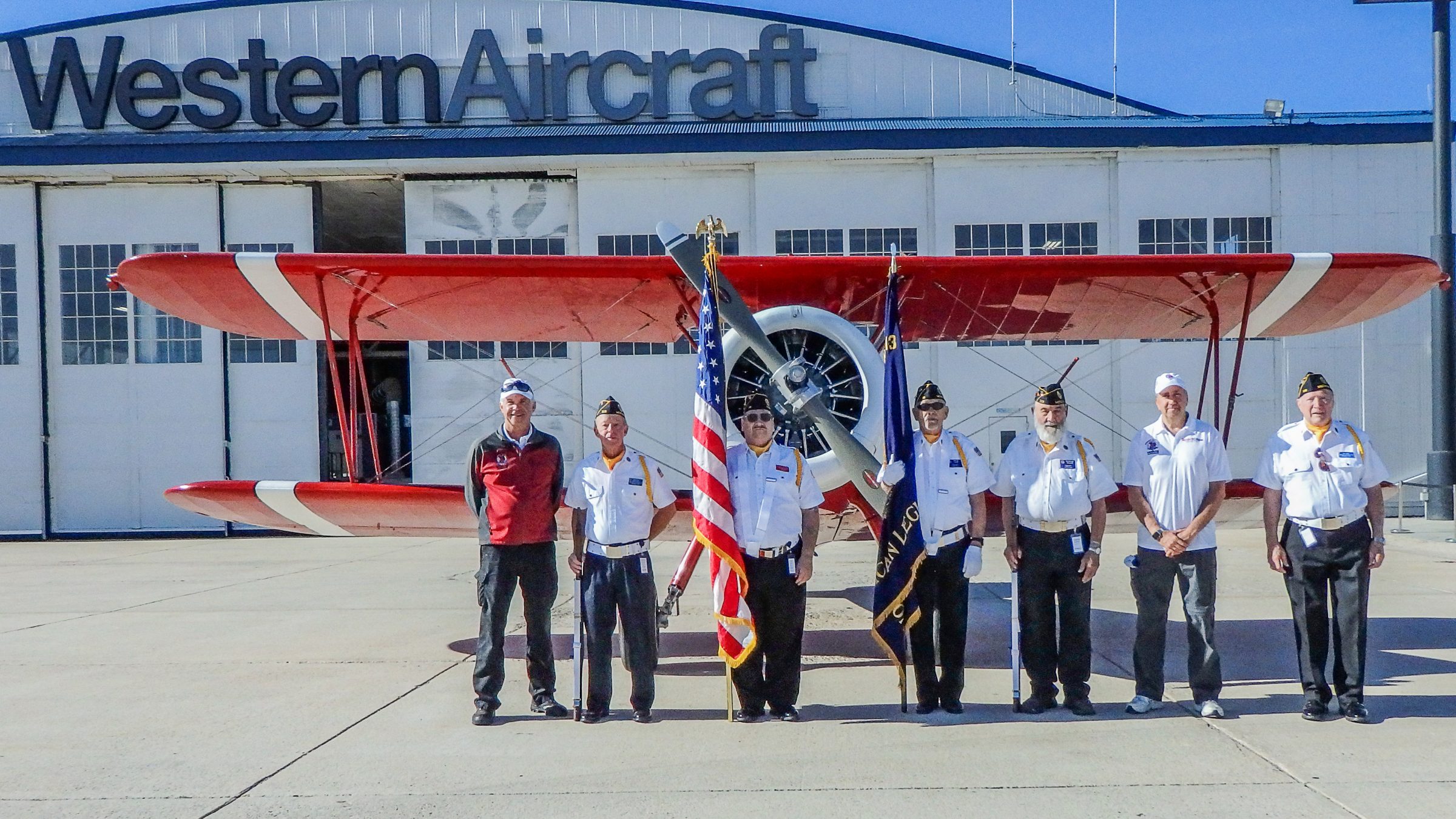 ---
Jun 15, 2018 Officer Induction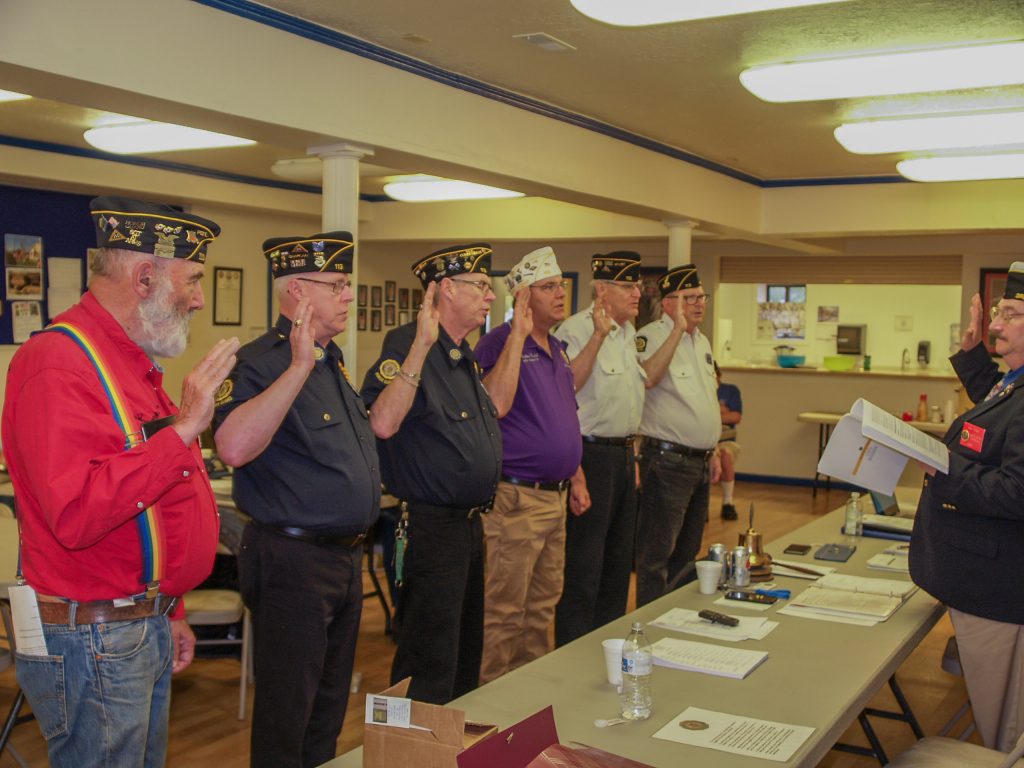 At the regular post meeting, the 2018-2019 officers were sworn in by District Commander Jack Youngs (Rt).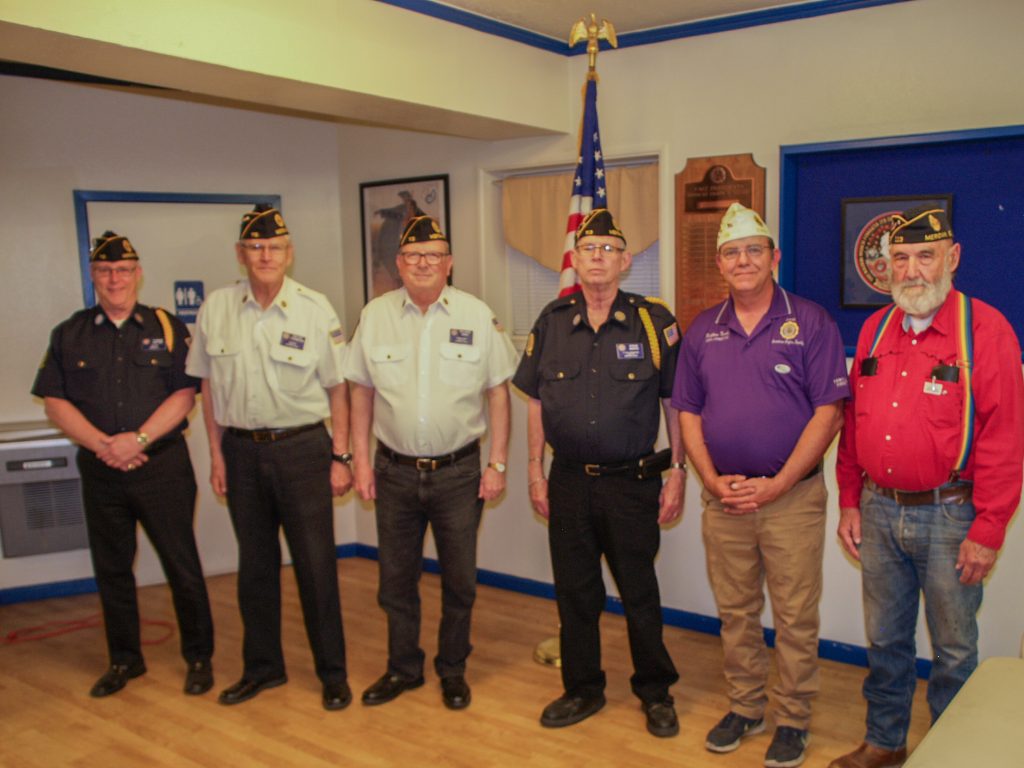 From Left to right: Chaplain Thom Juul, Adjutant Walt Thornton, Second Vic-Commander Rich Dees, First Vice-Commander Steve North, Commander Matt Wrobel, Sergeant at Arms Doug Killam.
---
Do the Right Luncheon

The City of Meridian, with the help of many partners, hosts an annual community event called Do The Right Day, held every April. The goal of the day is to encourage people of all ages to do something nice for the person to their right; whether it's helping a neighbor, giving a classmate a nice note, or buying coffee for a coworker. It is one day intended to start a movement of compassion.
©2018 City of Meridian
Mayor Tammy de Weerd and the city of Meridian presented a Do the Right luncheon to members of Post 113. Food was graciously provided by The Curb.