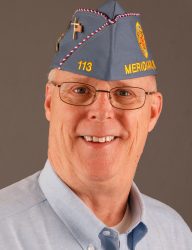 Squadron 113 is well on it's way to being up and running. Our new officers and Post Supervisory Committee are in place and working to organize the squadron. The officers will be meeting this summer and will have the squadron ready for its first meeting in September. We will meet in the Veterans Memorial Building, 22 W. Broadway in Meridian at 1900 the second Tuesday of each month beginning September 11, 2018.
The Commander's emphasis on training will be on two areas, and practicing that training by participating in community affairs and projects. Member training will focus on The Five Point Program consisting of Patriotism, Citizenship, Discipline, Leadership, and Legionism as well as The Ten Ideals of Patriotism, Health, Training, Knowledge, Honor, Faith, Helpfulness, Courtesy,  Reverence, and Comradeship. Medals are presented to the SAL members who master these programs.
If you are not already a member, please click on the button below to check for membership eligibility. We would love for you to join us.